WE ARE INDEPENDENT PRODUCERS. WE LIVE ON THE LAND WE CULTIVATE; A LAND WE'RE ATTACHED TO BOTH EMOTIONALLY AND HISTORICALLY.
We understand wine as the product of a place, a story to be told.
Each bottle represents the balance between the terroir and our personal interpretation.
We are winegrowers, winemakers, and we are also involved in the commercial process. This is important because the consumer can be assured of the authenticity of our message.
Sustainability and consistency are two of the fundamental pillars in our project.


One hundred years of generations of a single family living on the same land prove that. For us, the measure of our company's success is associated with caring for the environment and the people who work on it.
With regards to the environment, we carefully ration the use of water, as it's our most precious and scarce resource. We adhere to regenerative farming methods, respecting both the soil and biodiversity.
In the social sphere, we are actively involved with different organisations to promote exchanges of ideas and synergies, such as WofA, Crea, Inta and Aguas de Mendoza, among others.
We are founding members of PIPA, Independent Producers of Paraje Altamira. A nonprofit association that helped to establish the Altamira Maternal Nursery, among other actions. We're also involved in communicating the region's wines and characteristics. We are currently intensifying our efforts to research the terroir in order to better qualify the Paraje Altamira Geographical Indication.
In our efforts to lower our carbon footprint and help our neighbours, we try to work with local suppliers whenever possible and adhere to fair trade practices.
In 1995, Facundo Suarez donated five hectares to the San Carlos council to create the Angélica Civit Sports Center. We also donated a space at Finca Perico to build a well that supplies much of the drinking water for our town, La Consulta.
Our project begins on the lands chosen by Leopoldo Suarez (1882-1932) back in 1921. He imagined a storyline and persued his idea in a desert far from the city.
In 1904 he graduated as an eno-technical engineer from the School of Viticulture and Oenology in Conegliano, Italy. He also studied in Montpellier, France.
On returning to Argentina, Leopoldo became head of the Mendoza Oenological Station and director of the National School of Viticulture. Among his scientific works we like to highlight his Contribution to ampelographic studies in the Province of Mendoza, published in 1911.
For this book, he surveyed more than 30 varieties and undertook numerous vinifications of each according to their region of origin.
This resulted in detailed descriptions and concepts about plants and wines. With regard to oenology, he recommended practices that are sometimes considered novel trends but the evidence here showed that they are not: harvesting early to retain acidity, not using American oak, the differential character of wines on calcareous soils, among others.
Leopoldo also considered Semillón to be "the best variety for white table wines in Mendoza".
According to renowned winemaker Raúl de la Mota, there exists a before and after in Argentine viticulture based on his contributions.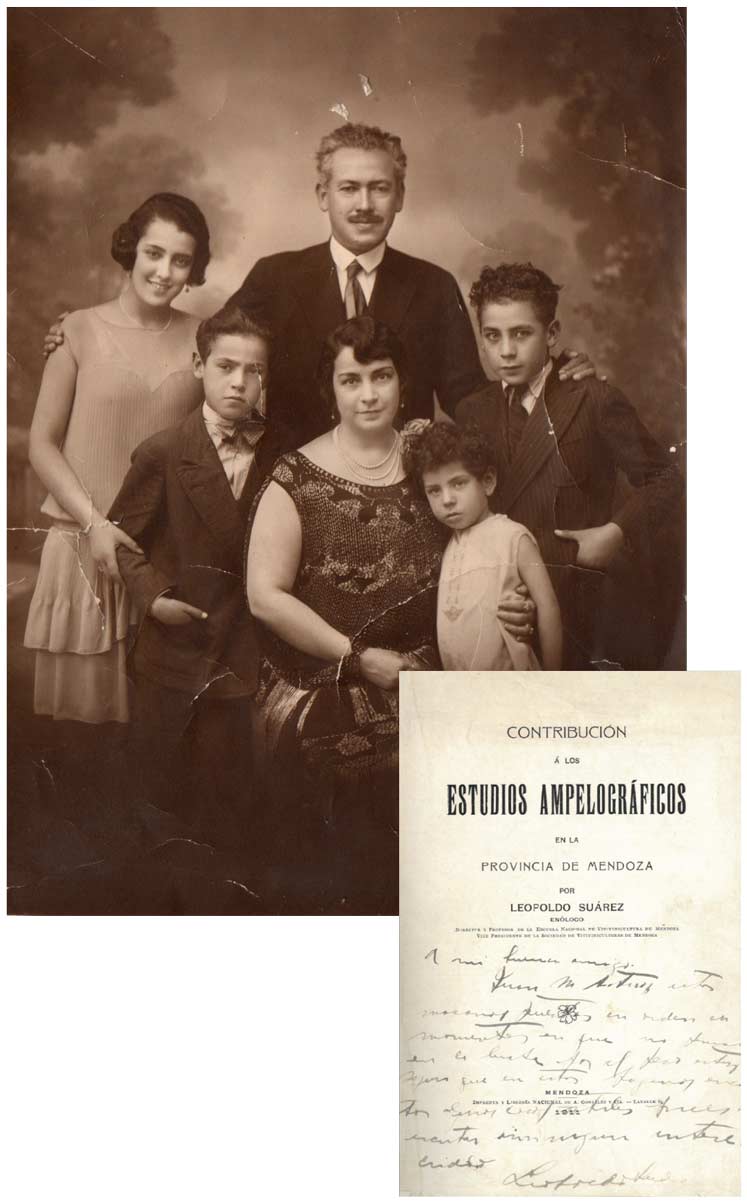 "The best Argentine white wine"
After his early death at the age of 52, his partner Angélica Civit and their children, including Facundo Suárez Civit (1923-1998), planted vineyards in the 1940s. Facundo cultivated Malbec and Semillón, among other varieties, until the mid-1970s.
Successive drops in grape prices and a lack of differentiation in the value of raw, high-quality oenological material during a boom in table wine consumption led Facundo to eliminate the 80 hectares of vineyards and replace them with fruit tree orchards, growing different varieties that were suitable for export.
Later in life, he returned to the idea of planting vineyards, , adhering to his father's wisdom: "Whoever makes good Semillón in La Consulta will make the best white wine in Argentina."
His son Facundo Suárez Lastra continued his father's plans and began planting vineyards in 1998 at Finca Perico, with the primary objective of selling the grapes.
In 2001, he purchased virgin-forest land south of the Uco Canal, where there were yet no vineyards, and planted Finca Las Piedras. He was a pioneer in Altamira Sur, today a prestigious winegrowing region with just seven high-quality producers.
In 2002, the first Finca Suarez Malbec appeared.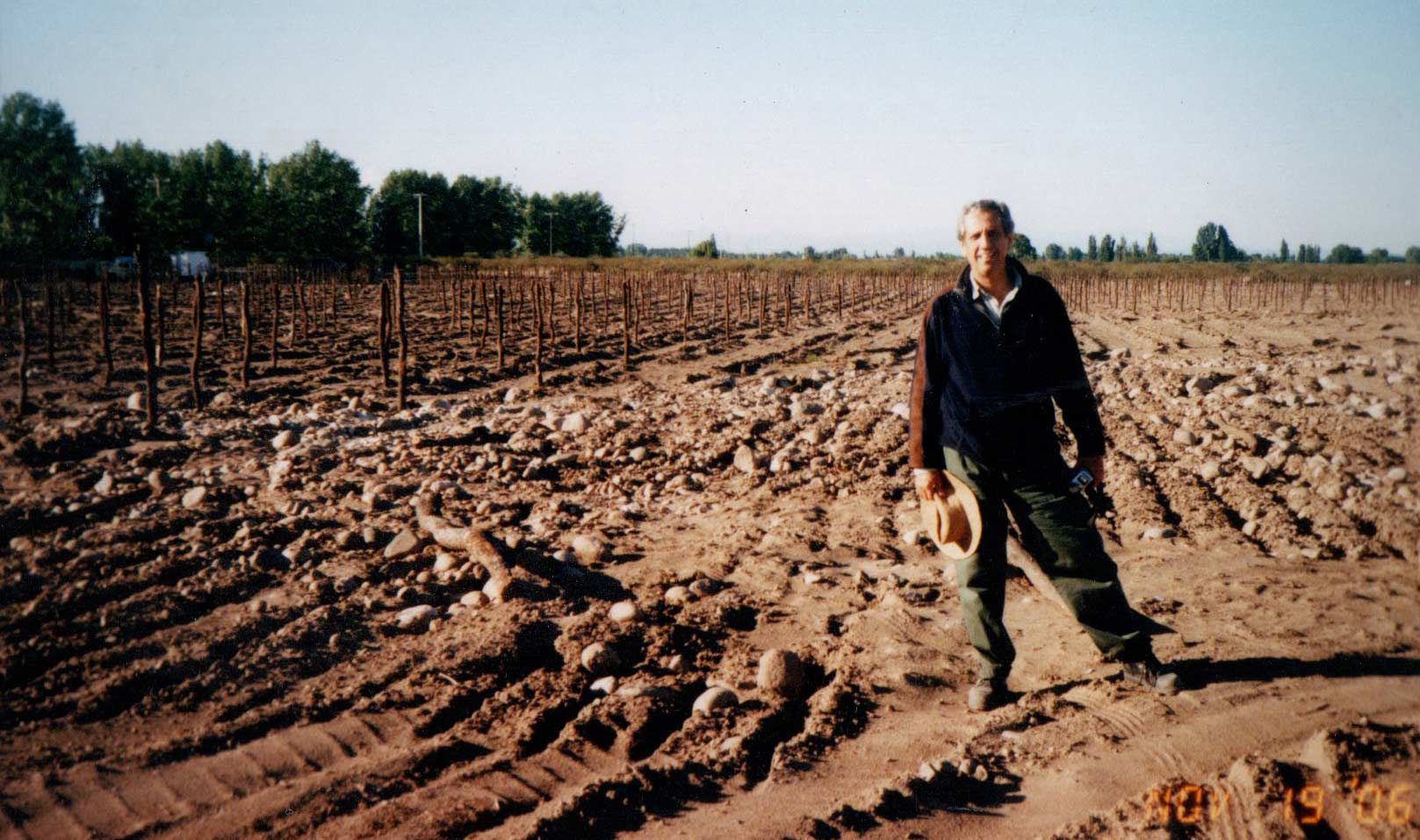 Terroir and sustainability
In 2011, Juanfa Suarez joined the family business, contributing to the search for terroir wines and sustainable agricultural practices.
In 2013, Finca Suarez planted Semillón once again, following Leopoldo's idea that had managed to filter down through the generations. This vineyard marked a change in our production strategy as it's the first vineyard we planted to grow grapes for our own wines and not simply to grow them as a commodity.
2019 was the first harvest led by Juanfa, who, after several years of trial and error, was now completely responsible for the wines.
In 2020 we conducted a detailed soil study with geophysicist Guillermo Corona. This allowed us to identify parcels with significant deposits of calcium carbonate and unique characteristics that we rely on for our Perico and Las Piedras wines.
2021 was a pivotal year for our company: : we undertook the first harvest based on the soil study data, consolidated our team, introduced new labels, and we celebrated our family's 100 years on our estate.
Today, Facundo and Juanfa are in charge of the vineyard and the wines. while Pedro, the fifth-generation Suarez at Paraje Altamira, explores and plays on the estate.